Overview
This article serves as a basis for optimizing DaVinci Resolve Studio for optimal playback when project media is located on a LucidLink Filespace. This should be a base configuration and tweaked from there as needed since every environment is unique.
This article applies to macOS, Linux and Windows versions of DaVinci Resolve Studio. Mileage may vary with DaVinci Resolve (non-Studio) since it does not support GPU hardware acceleration.
Recommendations
LucidLink Cache Settings
It is advised that your LucidLink Filespace Cache lives on SSD or NVMe storage locally attached to the workstation for maximum performance. If you Operating System drive is SSD or NVMe then you will have this configuration with the default settings.
Network Connectivity
When working with media assets, especially high bitrate footage, it is imperative that you provide a stable, low latency network connection to the workstation for best performance. For this workflow we would always advise using Ethernet where possible since WiFi introduces latency overheads and is generally less perfoment than Ethernet.
Filespace Block Size considerations
You should also refer to our KB Article on Block Size here:
https://support.lucidlink.com/hc/en-us/articles/5778284033293-Choosing-a-LucidLink-Block-Size
DaVinci Resolve Configuration
Media Storage Preferences
DaVinci Resolve Studio can access your LucidLink Filespace as a local Filesystem and should be configured from the Preferences > System > Media Storage configuration page.
DaVinci Resolve will store your CacheClip and Gallery stills at the Top location in the list, by default. You should ensure that your Filespace mountpoint is not the Top Media Storage Location in the list.
Direct I/O should be disabled to ensure that Operating System and File System buffers are used, this should increase performance.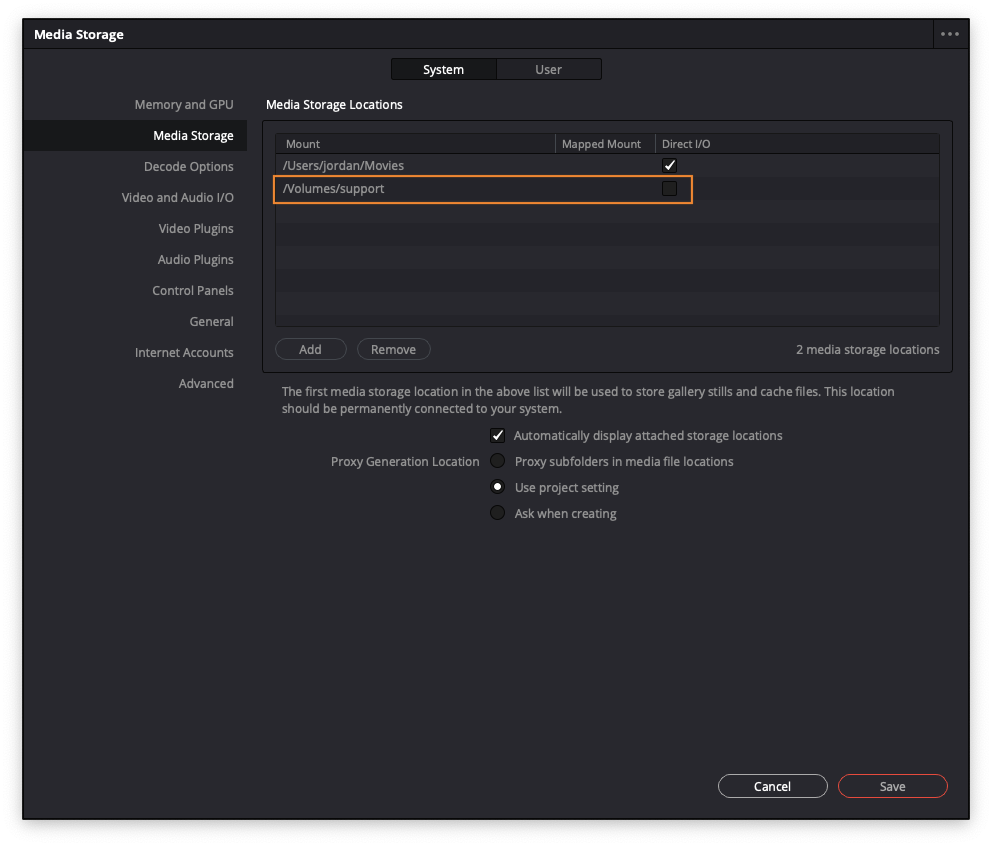 Render Cache
Users typically see a performance improvement when the Render Cache is set to Smart. This will dynamically and automatically flag clips on the Timeline that Resolve thinks would benefit from caching. This is then decoded and re-encoded during playback to your CacheClip location using your selected Cache settings.
Setting this to User allows you to manually select clips and click "Render Cache Color Output"
You can set this from Playback > Render Cache > Smart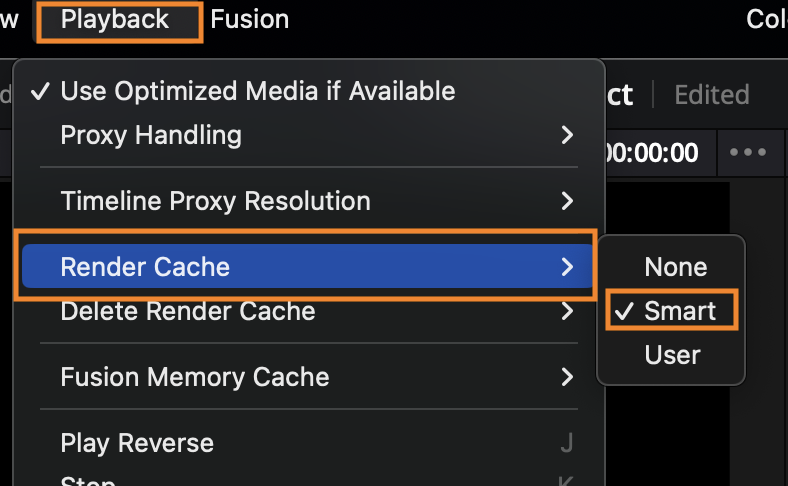 This is not the same as Pinning in LucidLink or the LucidLink Cache.
Timeline Proxy Resolution
Changing this does not lower the bandwidth required to read the Source media from the Filespace or LucidLink Cache location. It is simply the resolution at which the Source is decoded in the Preview window.
You may benefit from setting this to Half or Quarter but typically only when the hardware of your workstation is struggling to playback. This is not related to the LucidLink Filespace performance.
You can set this from Playback > Timeline Proxy Resolution > Half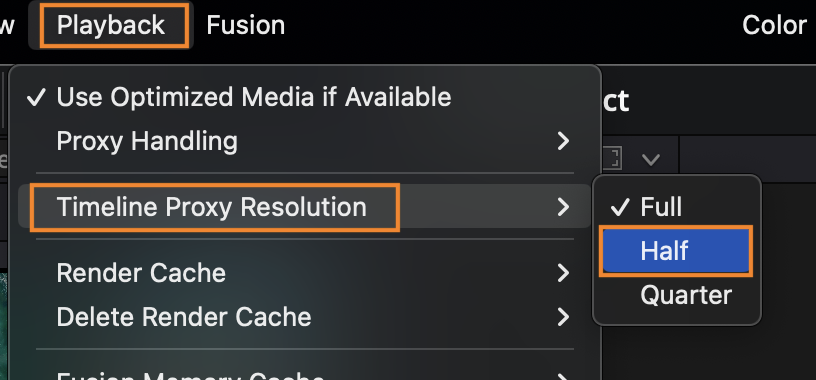 Disk Database Location
If you are using a Disk Database in DaVinci Resolve for your projects, you should not store this on your LucidLink Filespace as it may impact performance. This should be stored on fast locally attached storage such as an SSD or NVMe drive.
Known Issues
Thumbnail generation and Offline Media
Applies to: Resolve Studio v18+ on Linux only
Description: Thumbnails show offline Media in the Timeline and Media tab source browser. When attempting to Deliver, Resolve warns that some media is offline. Delivering does result in no media offline however and the issue appears to be cosmetic as the media is in fact Online. This has been raised with Blackmagic Design and it only appears to affect DaVinci Resolve 18 on Linux. Resolve 17 does not exhibit this behaviour.