TABLE OF CONTENTS
What is LucidLink Filespace 2.0?
LucidLink Filespaces 2.0 is the latest release to our global file system architecture. It combines an update to the LucidLink Client application (version 2.0 or later) and the LucidLink Service. Together, these updates are collectively referred to as LucidLink Filespaces 2.0.
What's new in this release 2.0?
Introducing Metadata Streaming What is LucidLink Filespaces 2.0?
Our innovative file streaming technology has been re-architected from the ground up in this release to meet the ever-growing demand for active remote collaboration. Collaborating over long distances often exceeds hundreds of concurrent users, having access to millions of files. Metadata Streaming, included in LucidLink Filespaces 2.0, introduces advanced algorithms that allow optimal metadata streaming over the Internet, using minimal system overhead and compressed traffic. Local caches now only use the metadata they need, avoiding unnecessary use of local machine resources. And following our long-standing security model, the metadata remains fully encrypted, ensuring your projects remain in your hands. With Metadata Streaming now available to LucidLink Filespaces 2.0 users, real-time collaboration on massive media files–from home or the office–has never been more accessible in enterprise-scale organizations.
Our fastest Filespaces yet
LucidLink Filespaces 2.0 is the perfect solution for creative teams growing quickly. New team members can now browse Filespaces of any size with lightning responsiveness, from hundreds to millions of files and more in storage. The new Filespaces architecture gets your expanded creative team up-to-speed fast on projects without downtime or lengthy metadata synchronization.
Instantly accessible snapshots of any size
LucidLink offers a unique way to preserve your projects using snapshots – instant restores of individual files or entire Filespaces. With LucidLink Filespaces 2.0, waiting for a snapshot to mount is a distant memory. The new Filespaces architecture enables instant access to any snapshot, making project recovery instantaneous.
New and improved file locking
LucidLink global file locking gives Windows-based applications the native support required for serializing access across multiple users. Teams can collaborate on shared projects in the cloud from any location. The new architecture in LucidLink Filespaces 2.0 features state-of-the-art reimagined global file locking that keeps performance intact but becomes more resilient in a distributed environment. Windows users will get a file locking experience on par with network-attached storage.
Has Filespace creation changed?
Filespace creation process remains the same, through your web portal account. However, all newly created ones will be Filespaces 2.0 by default, requiring LucidLink Client 2.0 installed in order to be initialized and used.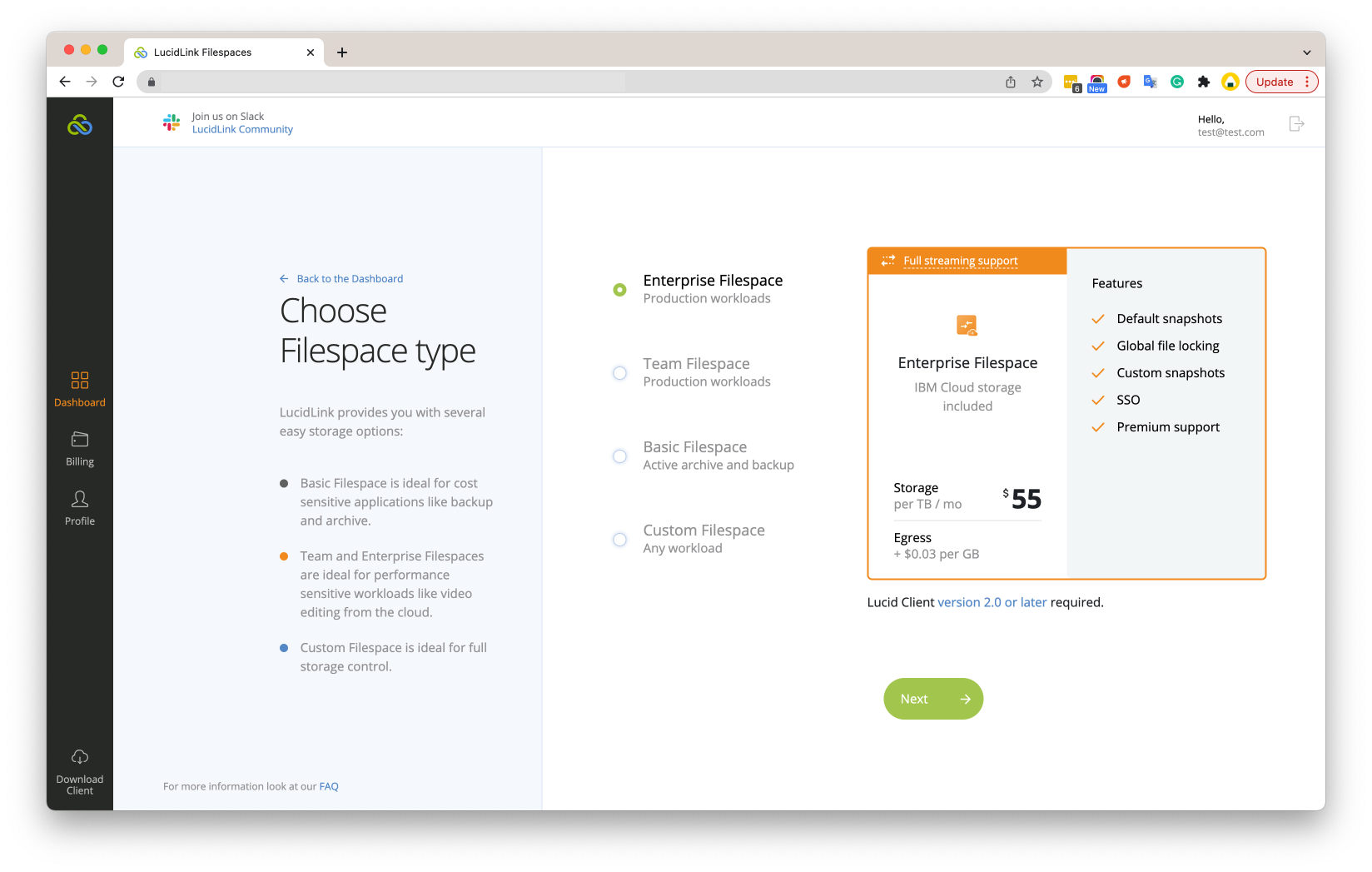 What version of LucidLink Client should I install to connect to Filespaces 2.0?
You should use LucidLink Client 2.0 or above to initialize or connect to a Filespace 2.0. LucidLink Client 2.0 is fully compatible with all previously existing Filespaces.
Can I still create deprecated Filespaces 1.0 (without metadata streaming support)?
Yes. To allow for a smooth transition to Filespaces 2.0, we will continue supporting for a limited time the creation of Filespaces 1.0 without metadata streaming support. Those Filespaces 1.0 will still work with LucidLink Client version 2.0 or later.
In order to create a Filespaces 1.0, please use the "Configure advanced settings" checkbox and select "Create a Filespace without Metadata Streaming Support."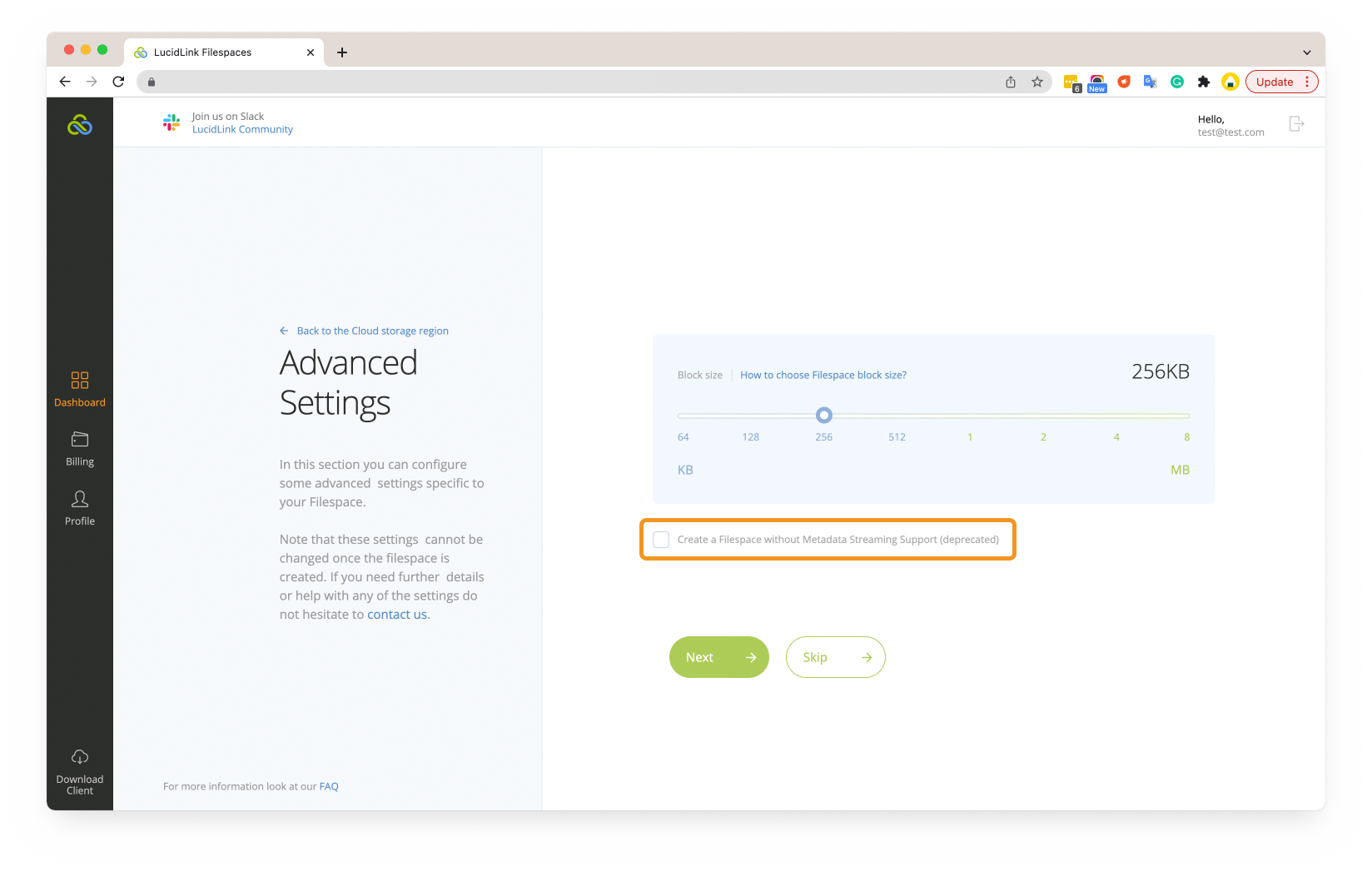 Will my existing Filespaces be automatically upgraded to Filespaces 2.0?
No. Your existing Filespaces 1.0 will remain as Filespaces 1.0. LucidLink Client 2.0 included in this release is compatible with Filespaces 1.0. You can upgrade your LucidLink Client and use it with Filespaces 1.0 and Filespaces 2.0 simultaneously.
How do I migrate my current data to Filespaces 2.0?
You may copy your Filespaces 1.0 data to a new Filespaces 2.0 to take advantage of the new Filespaces 2.0 performance improvements and metadata streaming. At this time, we are not offering a Filespaces 1.0 to Filespaces 2.0 data migration service.
Has pricing changed?
No. Your Filepaces pricing rate plan has not changed with this release.
Will my monthly billing change?
This release introduces several changes to how data is metered on Filespaces 2.0. As a result, when using Filespaces 2.0 your monthly billing may change due to how storage is now metered. Filespaces 1.0 storage metering remains unchanged. When using both simultaneously, your monthly bill will reflect both the Filespaces 1.0 existing metering model and the new Filespaces 2.0 metering model. Please contact your customer success manager to obtain details specific to your account and storage usage.
I was in the Beta Program. What will happen to my Beta Filespaces?
Filespaces created during the Beta program are not compatible with LucidLink Filespaces 2.0 and will not be supported outside of the Beta program. We recommend you delete your Beta Filespaces manually as they will not be deleted automatically by LucidLink.
For a limited period of time we will let Beta program participants migrate data if they used the Filespaces during the Beta program for production workloads.
Please note that LucidClient 2.0 will not be able to connect to Filespaces created during the Beta program.
If you need assistance migrating data from Beta Filespaces please contact the support at support@lucidlink.com
We'd like to thank you for participating in the Beta program. We've gathered valuable feedback which we will use to improve Filespaces 2.0 even further.
Will you develop and improve in parallel the old and new version of LucidLink Filespaces?
No. LucidLink Filespaces 2.0 is better in every aspect compared to the deprecated legacy Filespaces. For a limited period of time we will provide an option for customers to create legacy Filespaces to allow a smooth transition if needed or address any concerns.
How long will you maintain support for Filespaces 1.0?
We will make sure customers are well supported and have plenty of time to make a smooth transition to Filespaces 2.0. We do understand the potential complexity based on your current Filespace size, organization size, and rolling out new Lucid Client 2.0. Our Customer Success team is ready to support you during this transition.