LucidLink supports being run as a back-end volume to backup products such as Acronis True Image for macOS or Windows
This allows you to send Acronis backup data directly to cost-effective cloud object storage, allowing you to avoid the infrastructure cost associated with local storage. In addition, snapshot support in LucidLink provides a mitigation layer against ransomware and malicious data deletion.
To use Acronis with LucidLink, first you need to create a LucidLink Filespace:
Create a LucidLink user account, if you do not already have one. And setup a filespace to use the object storage of your choice. Note that for object storage that is local, you may have to specify different port numbers, and region options. Ensure you look at the LucidLink guide specific to your object storage vendor.
Download and install the LucidLink client for macOS.
You can initialize your filespace. This sets up connectivity to your object storage bucket and configures your root password. Remember that whilst you can change this password when logged in, there is no way for us to recover this password should you forget it.
After initializing you can connect and optionally change the mount point.
If you don't already have a copy of Acronis on your machine, you can download a trial here.
Open up your LucidLink mount point and create a folder.
Open up your copy of Acronis True Image and select the LucidLink mount point as your backup destination.
Select the folder under the LucidLink mount point as your backup destination.
After selecting 'Back Up' your data will be sent directly to your LucidLink Filespace based on cloud object storage.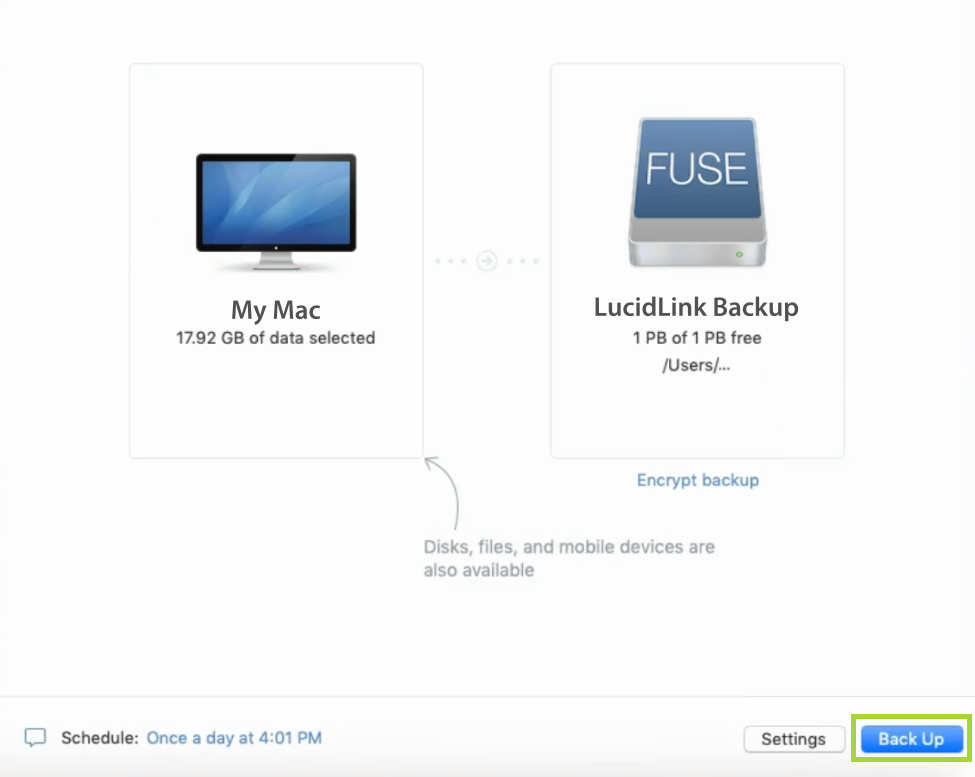 Using LucidLink with Acronis provides an extremely cost effective way to back up and restore data from your Windows and macOS clients. LucidLink supports any S3-compliant object storage and Azure Blob, reducing cloud storage costs. Data can be restored directly from object storage, and is streamed on-demand. This means that item level recovery will only pull the data as needed and not require the entire backup to be downloaded.